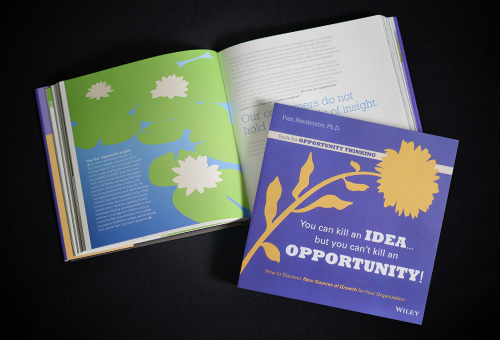 Killing Ideas
We were asked by Pam Henderson, CEO of opportunity thinking company New Edge, to help bring her new book to life.
The book is based on the premise that it is opportunity that delivers meaningful and lasting growth. It is vast in scope; covering world-changing historical examples of opportunities that were maximised, contemporary case-studies of companies and individuals who thought differently to leverage an opportunity, and thought-provoking statements from leading thinkers and entrepreneurs the world over.
Shortly after release the title was picked up by Wiley. More pages were designed and added and the title was changed to 'You can kill and idea, you can't kill an opportunity'.
Challenges:
Business books can be dull – we had to break the mould to create a book that was as visually engaging as Pam's words are intellectually stimulating.

Pace – one of the reasons books generally can be dull is the lack of pace – or the varying of pace. We used engaging illustrations, illustrative typography, and repeating elements to create a book that is easy to read from cover to cover or to just dip into from time to time.

Timeframe – The timeframe was tight and with printing deadlines looming, we liaised with Pam in the US to create a virtual 24 hour workflow. Files were produced in Kyrgyzstan while the US was sleeping. While Bishkek was slumbering, Pam and her team were able to check, comment and send revisions at the end of their day for Spark to work on.