Richard
Creative Director
UK English (fluent), Russian (int.)
Rich has 14 years experience in design and has worked with some of the world's largest brands including Tesco, Kingfisher, Starbucks and ASDA. With an eye for detail and an inquisitive personality he heads up our creative team in their quest to provide all our clients with innovative and beautiful work that's appropriate for their needs. He enjoys cycling and has finally fixed his bike!
Super Powers:
Retail Design: with a long history in retail design Richard enjoys nothing more than creating retail spaces that are inviting and functional for both customers and employees.

Book Design: he has a knack for organising information and knows all the InDesign short cuts to make any book or (book-like) report look as professional and interesting as a it can be.

Experience: over the years Richard has worked with a multitude of businesses, both big and small. He knows what works and what doesn't when it comes to design (and business in general). So, if you have questions feel free to ask!
Galina
Business Manager
Russian (fluent), English (fluent)
The newest addition to our little team, Galina handles our paperwork and most of our customer relationships. Being fluent in both English and Russian she is a great help with proof reading documents and making sure everyone is on the same page.
Super Powers:
Proof reading: She knows her grammar in several languages and is adept at catching our mistakes as well as yours.

Bureaucracy management: She knows every office and which little slip of paper each needs from us to keep us running and legal.
Joerg
Designer
USA English (fluent), German (fluent), Russian (int.)
With a diverse background in design, illustration, and production he knows the value of keeping things simple. As a conceptual thinker he enjoys organising information and solving problems, but as an illustrator he likes quirky doodles. He likes to cook, draw, and play guitar and sometimes secretly wishes he was a lumber jack.
Super Powers:
Web wrangling: self taught in HTML and CSS he can customise WordPress themes and if need be create a site from scratch.

Illustration: if you need quirky hand or computer drawn illustrations, he's your guy.

Production knowledge: he knows about a lot of the end products your logo could end up on, from screen printing, to embroidery, to the web, and how to make things look good in each case as well as the general costs involved in each of the processes. Talk to him about what you want to do and he can help you to get the most out of your money and your design and tell you what questions you should ask your production guy.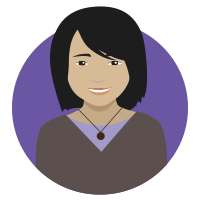 Fatima
Designer
Russian (fluent), English (adv.)
The newest member of our illustrious design team, Fatima is clever and thorough and can hold her own in both design and illustration. She likes to theorise about science fiction and enjoys reading graphic novels. Perhaps one day she'll make her very own.
Super Powers:
Illustration: whether its on paper or as a scalable vector, she churns out beautiful graphics for use in a wide range of projects.

Presentations & Mockups: with a great grasp of gradients and perspective, she excels at creating sleek modern looking designs and convincing 3D models for packaging design so you can get an idea of what your product will look like before spending all that money on printing…

Custom Type & Icons: she has a good understanding of typography and icons, both of which are little things that can make a big difference in creating a successful design.
Good people are hard to find, but here at Spark we have been privileged to work with some of the best. Of course it wouldn't be fair to the world to keep them all to ourselves, and so some of our employees have moved on to make the world a better place, and to be a blessing to others, as they were to us. This is a thank you to those who have gone, but who have helped to make Spark what it is today.
Zoya
Office Manager
Russian (fluent), English (fluent)
Zoya joined Spark straight out of college, when the company was quite young and we still had a lot to figure out. But despite her lack of experience, she quickly rose to the occasion, working with clients and acquainting herself with all the legal offices and ministries around town to keep us up and running. The whole time she also taught English in the evenings, which is a testament to her character and tireless work ethic. She was always pushing herself and others to improve, to keep learning, and to keep trying new things. After years of applying for scholarships, she was accepted into a programme that will have her studying all over World, realising her livelong dream of traveling the world and getting her Masters Degree. Bon Voyage Zoya!